Dave Beckford's story is a great example of the way many people took up the harmonica in the 1940s. Similar examples can be found in the lives Jim Hughes, Douglas Tate and the many other people who went on to play in local harmonica contests as soloists and members of harmonica groups.
---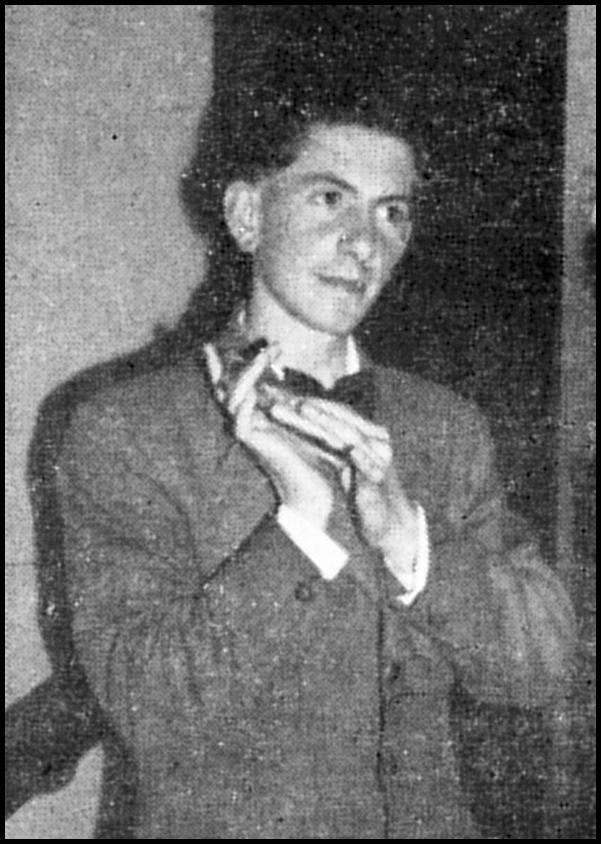 Dave Beckford was born in Greenwich and spent most of his early life in Welling, London. He took up the diatonic harmonica at a young age and was soon playing popular dance tunes.
After learning how top players like Larry Adler were able to play so well, he saved up and bought his first Super Chromonica in 1950 for £2.16s.4d (£2.82) and played in the school's Christmas party. When he left Bexley Heath Secondary school in 1951 he took part in a talent contest which led to some appearances for the Granada Theatre in Welling.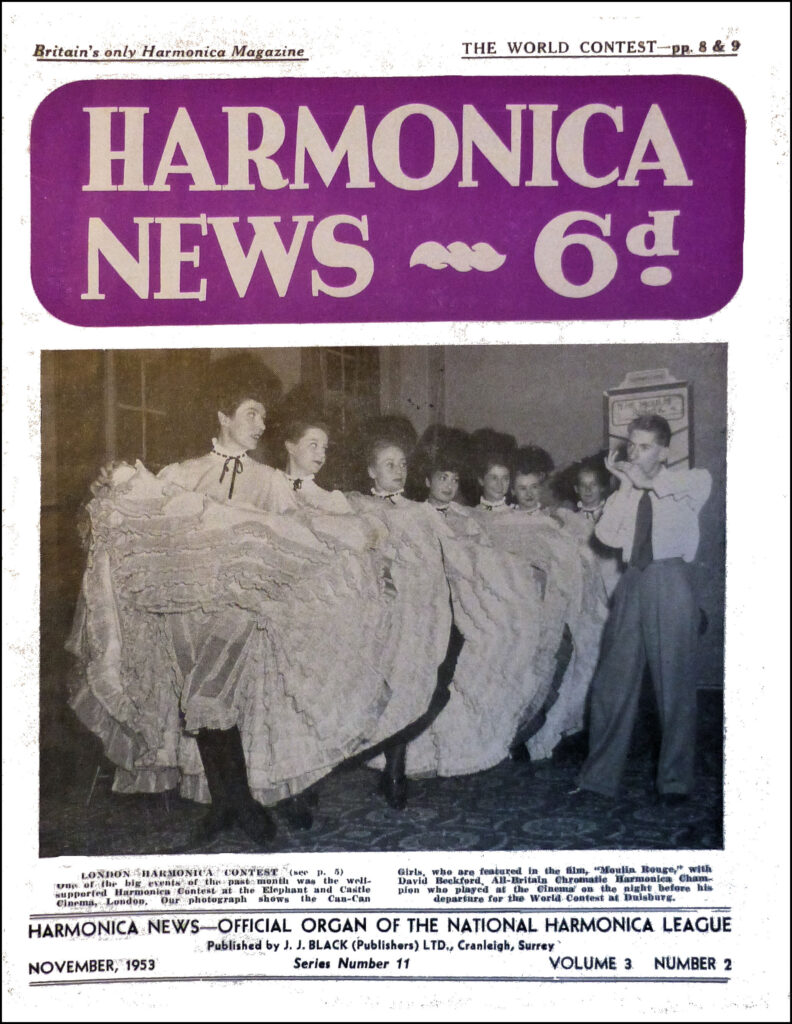 Dave became All Britain Chromatic Champion at the first post-war Championship held in in the Central Hall, Westminster, London in July 1953. He was 17 and this was his first major contest.
As Champion, he performed at a regional harmonica contest at the Elephant and Castle Cinema, in South East London, to promote the film Moulin Rouge. This is captured on the cover of the November issue of Harmonica News.
Dave then went out to Germany with Johnny Pluck to play in the World Championships in Duisberg. In 1954 he played with the Steve Race Orchestra on BBC TV, before doing his National Service.

Dave took time out after his time in the Army to raise a family and worked in the printing industry. It was not until the 1980s that he got involved with the harmonica again.
He joined the Blowhards Harmonica Club, a successful educational project run the by Mike Sadler in Gravesend in the late 80s. Dave was able and willing to help with members' problems. He continued to do harmonica repairs for many years.
It was at one of these meetings that he met Derek Yorke and with the help of a chord player called Ron Mealin, they formed Three-in-Accord. A local headmaster, John Tyler, joined to play bass and so began Four in Accord. There were several personnel changes over the years. Jack Lewis took over the chord when Ron left. When John Tyler died, Dave helped Jim O'Driscoll to take on the bass. Jack Lewis left and Pat Lynus took over on chords. Four in Accord were the last performing quartet in the country and played all over Essex and Kent as well as at harmonica festivals.
Travelling to gigs became a problem for Pat so Roy Green took over the chord for the final line-up of the group after the Bournemouth Centennial festival in 2000. This line-up appeared a number of times at NHL Festivals up to 2007.
Four in Accord with Pat Lynas
Four in Accord with Roy Green
All of the group were members of the National Harmonica League (now HarmonicaUK) and Dave served on the committee for several years in the 1990s as the Secretary. Together they organised joint meetings with the Dartford Folk Club and ran important NHL festivals in Sible Hedingham. They were also important members of the IHO and were very involved with the Millenium Festival run by John Walton in Bournemouth in 2000.
Dave had to stop playing in his later years due to ill health, but he was always good company and a great musician.