John Bryan – Collecting before the Internet
Based on my article in Harmonica World April 2015
Ronald Victor John Bryan – Born 8th September 1924 – Died 14th September 2014, in Southampton.
John amassed what is probably the best collection of harmonica media ever – audio and video recordings, magazines, and photographs- everything but harmonicas. He did this without the benefits of modern methods of communication – he never used email or searched the Internet.
How did he do it?
John was born in Portsmouth. He and Nora married young and had a son who went to live in the USA.
John worked as a fitter for Ford for most of his life and never lived far from the Ford factory in Southampton, apart from a two year spell in Australia, which did not suit them. He was a successful middle-weight weightlifter and he took part in competitions as far away as Germany. He loved his motor cycle, an AJS Matchless Twin, until he had a serious crash. He survived a cancer scare in the 1980s and was active until his death in 2014.
John was a quiet man who kept himself to himself but was quite adventurous. He built up a large network of harmonica contacts. This cutting from the NHL magazine from 1962 shows how he set about doing it..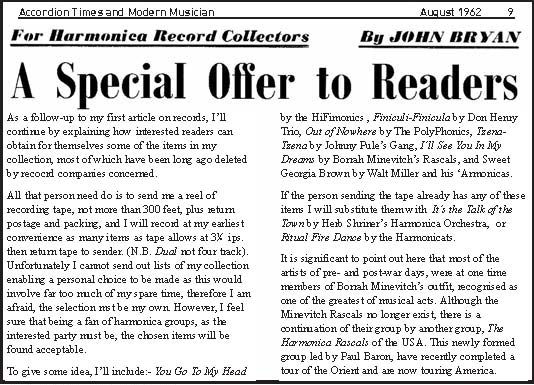 When I took over as Chairman of the NHL in 2000, I was interested in the history of the organisation back to the 1920s. It soon became clear that I should talk to John.
I met John at the International Harmonica Festival (IHO) in Bournemouth in 2000, along with two others people with similar interests – Art Daane and Brian Holland. All three had been involved in collecting information and recordings by the early harmonica groups and chromatic soloists. They contributed a lot to what has been preserved.
It was not easy to write the story of John's harmonica journey as he outlived most of his friends. Fortunately I had asked John about it and I have the letters he wrote to me about the collection. Here is the story in his own words.
The History of my Collection by John Bryan
My interest in the harmonica started during the mid 1930s when I saw a music hall performance by the Borrah Minevitch Rascals in my home town of Portsmouth. Ten years later I started buying 78s by Larry Adler, Ronald Chesney, Max Geldray, Tommy Reilly, and the BM Rascals, but little else was known of such records in other countries.
In the early 1950s I saw a copy of Harmonica News, joined the NHL and got their magazine. I learned of recordings in other countries. I sent details of my record collection to the NHL and SPAH magazines, and then made the offer on the opposite page, in an effort to make contact with other collectors in other countries and to work out a Record Exchange System between us.
One of the first to respond was Andy Paskas, the technician at Hohner (New York) and a one time bass player with for the Paul Baron and Johnny Puleo Groups. He was really a collector like no other and he really got me going.
I made many pen-friendships and set up extensive record exchanges between us. This let me get copies of harmonica records not available here- from the USA, Argentina, Canada, Brazil, South Africa, France, Holland, Spain, Portugal, Germany, France, Israel, Austria, Sweden, Switzerland, Australia, Czechoslovakia, and Singapore.
Without friendships from those countries my collection would not exist! My visits to harmonica events in the USA (SPAH in Detroit 1979) and other European venues also brought me into contact with many of the greats of the harmonica world and invitations to their homes – Harry Feinberg, Bill Fox, Alan Pogdon, Norm Dobson, Andy Paskas, Charlie Leighton, Jerry Murad, Stagg McMann, Hal Weiss, Al Smith and Gene Finney.
I will be forever grateful to the harmonica for making all this possible.
John Bryan
---
Here are two collections of harmonica group favourites put together by John Bryan
Harmonica Favourites – Part One – Quartets, Trios, Duos and Soloists
Harmonica Favourites – Part Two – Quartets, Trios, Duos and Soloists