Franz Chmel was regarded by some as the best classical chromatic harmonica player. He was born on 26th February 1944 in St.Pölten, Austria. Franz started playing harmonica at the age of six and when he was 12 years old he founded the successful Piccolo Harmonica Trio with his elder brothers.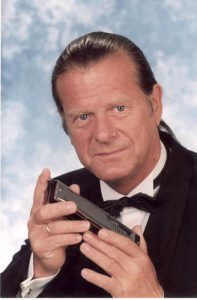 Between 1957 and 1965 he took many top three prizes as a soloist and group performer in National, European and World Harmonica Championships. Then in 1965 he suddenly stopped playing harmonica and went back to his work as an engineer…
In 1987 he made a comeback and immediately found success in festivals and competitions. He was well known in his home country, Austria, and he played at the Austrian Presidential inaugural ceremony. He toured Morocco and performed in Armenia, Germany, Switzerland France and Japan. He was also www.chmel.at invited to perform at the 5th Asia-Pacific Harmonica Festival in 2005 in Hong Kong.
Franz was a perfectionist and he practiced many hours a day to achieve what he knew to be possible. He worked hard on his technique and developed his distinctive tongue vibrato. His practice regime was breaking his harmonicas and so he set about developing his own design which would maintain their tuning and have longer lasting reeds. This resulted in the NC64. Only three were made. He played one and two more were sold. They were hand made and each one took over 200 hours to assemble and adjust for the performer. There is more on his website
His determination to become a master of technique and harmonica design led to him becoming involved with Michael Timler and HarpOnLine, where such things were discussed. Michael put on a concert in Ulm where Franz played with Howard Levy. Howard was impressed enough to invite Franz to join him and Joe Filisko for a very eclectic concert in Chicago, Harmonica Convergence, in 2006.
Franz's musical success led to meetings with James Moody and some other composers who wrote music for him. Franz recorded five albums of Classical Music and his last recordings were with his latest harmonica, the NC64.
You can hear Franz play on his YouTube videos, many which he uploaded just before his death on August 18, 2016, aged 72. These videos show his phenomenal technique as well as many of the best known transcriptions of classical music for harmonica.
This was taken from the October 2016 issue of Harmonica World magazine.