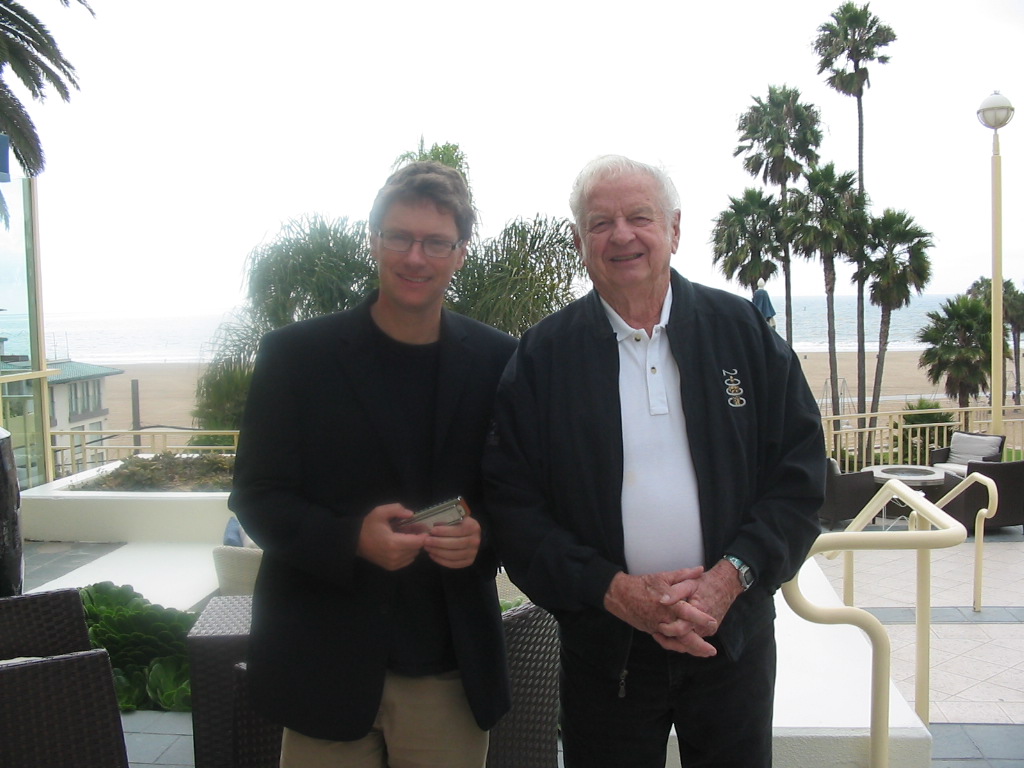 Phil Hopkins wrote this for me in 2010 when I was Editor of Harmonica World. He is a chromatic harmonica player when he is not the percussionist for London stage orchestras.

Here he is with Tommy Morgan in California in 2010.
The name of Tommy Morgan, Hollywood's favourite harmonica player, is assured of a prominent place in any history of the instrument's development. Morgan's extraordinary career, during which he has racked up more than 7000 recording sessions for entertainment industry bluebloods such as The Beach Boys, The Carpenters, John Barry, Randy Newman, John Williams, Barbara Streisand and James Taylor, to name but a few, is still going strong – and recently passed a significant milestone. For September 2010 witnessed the 60th anniversary of Morgan's session career, commencing with a recording for the Andrews Sisters in 1950 and recently seeing him booked in the studio for sessions for projects such as the film "Toy Story 3" and a new Barry Manilow album. And he still keeps busy with live classical engagements with the world-renowned LA Philharmonic.
I personally experienced the Tommy Morgan sound as a part of the soundtrack to my formative years as a youngster growing up in the 70s, even though at that stage I didn't know the name of the man who was behind it. The mournful intro to "Rainy Days And Mondays", the funk/C&W fusion of the Rockford Files theme, the spooky middle section of "Good Vibrations" (borrowed from my elder brother's record collection) – all were manifestations of the master harmonicist at work in different disguises. But it was only when I heard John Barry's orchestral album "The Beyondness Of Things" in 1998, with Morgan prominently credited for some gorgeous solos, that I connected the name of Tommy Morgan to the harmonica work which I had enjoyed for many years hitherto (via information on Morgan's website). And for me as a harmonica student, Tommy's sound on "Beyondness" soon became a reference work, a template of how the harmonica at its best could sound. Forget about whether it was chromatic or diatonic (actually mostly chromatic, with a little diatonic on "Dance With Reality"), this was an amazing harmonica sound, rich, full, controlled and completely attuned to the lush orchestrations which surrounded it.
What did it take, I wondered as the years passed, to develop a sound and a career to this level? Then in October 2010 I found myself passing through Tommy Morgan's home city of Los Angeles and was lucky enough to find the man himself in town, graciously agreeing to spend a morning explaining to me and Harmonica World readers how it all came together.
"People call me a legend," he says, settling into a chair in my hotel room – before modestly adding, "which means I'm old." But I am soon to learn that this particular "legend" was erected on a bedrock of sheer old-fashioned graft. "When I was 26 I realised that I didn't like my sound," he explains. Although everyone else seemed satisfied with it – Morgan had already been a soloist with the US Airforce Band and had worked studio sessions along with guesting on the top-rated Ed Sullivan Show – he wanted to attain the sound he heard in his mind's ear. "I had weaknesses. I hadn't gone through the pedagogy that other instrumentalists go through to play in orchestras. So I started on the Rubank flute book. It's still around. I spent several hours a day for 6 years, while also working dates. I started with the first page and didn't skip any exercises, I played them all. I now have a stack of sight-reading two feet high. Then when I got to a level where I thought I was getting better, I would spend a week in A Major. Then a week in B Flat."
I mention that I dislike A Major. It's a sharp key and tricky for chromatic players. "You've got to like A Major," Morgan cautions. "I just finished an album with Gregg Nestor the classical guitarist where every piece bar one is in a sharp key. I play in D as comfortably as I do in any key. I'm as prepared as anyone who's been through a European Conservatoire. I stuck with the flute and oboe tutors. Clarinets get a little too arpeggiated." He chuckles. "If you want to be humbled, go get a clarinet book."
But how to get that big, rich sound? "I practised long tones. Just like wind players do at music college. The note has to be in tune, and the tone mustn't waver. It's not easy." He spots a harmonica in my room and asks me to play a scale. "That's good but you don't play every note in tune." He asks to borrow the instrument and plays a single G, hole number 3, which starts imperceptibly, builds to a crescendo and dies away. The pitch is perfect, the sound fills the room. Then he demonstrates a Bb scale at breakneck speed to show that, at age 77, the technique is as strong as ever.
I find Morgan direct, but not intimidating. He likes to communicate clearly, and he is generous with information. "When I was sixteen or seventeen I studied with Jerry Adler, Larry's brother. Jerry was a superb ballad player, he opened my eyes to what could be done. It wasn't so much totally improvised jazz solo as an interpretation. It was more like, here's the tune….and second time around he'd add and subtract things. And now when I give a lesson I sit close to the student, and we play. The best way to learn from someone is close-up. Without equalization or effects."
Morgan adds that the hours spent listening to playbacks in the studio have been essential in building his sound.
"Hearing your sound back in the studio is the best way of developing it. I have heard myself more than any other harmonica player. You don't hear yourself when you play alone. Most students I have play introspectively. They don't project, they play with their heads down and slump a little bit. If I were teaching you today we'd go into a corner with hard surfaces where the sound bounces back in your ear. When there was a lot of studio work I'd hear myself daily…you'd hear a solo back and change a little bit here. This sounds good…but this is a little better."
Another key to the Tommy Morgan sound is the area where the sound is actually produced, the contact zone between player and instrument. Morgan favours the square hole found on the classic Hohner 270 chromatic. "There's more area than the round hole," he confides. "And there is nothing on the inside of my mouth that covers the square. When I'm tongue-blocking, which I mostly use for chromatic, the right side of my tongue is flat. When I'm giving a lesson we both face the mirror with mouthpieces and you'll see on mine that there is nothing covering the edge."
Did he consciously set out to flatten the right edge of his tongue?
"I played for so long not liking the sound that I gradually improved the embouchure. As I uncovered a bit more hole it became a more open sound. I get the full air passage. I proved you can make a square mouth." He raises an eyebrow ironically. "I have lived the harmonica, believe me. I didn't take anything for granted, and I have tried a lot of things. But I didn't set out to make a square mouth. I set out to make a good tone."
This, I realise, is at the core of what Morgan is about. A relentless and restless desire to make better music. And at this point it comes as no surprise to hear that serving the music is the end result, not showcasing the harmonica. When I mention how much I enjoyed a little bend Tommy played on a solo on the James Taylor album "October Road", he smiles. "That worked for James' album. And I never forgot whose album it was. I played that way to enhance James' album, not to make me stand out. You're listening and then fitting in – how do you fit in to the overall picture? That's the main question."
And the ability to fit into a musical score, whether classical or pop, labelled Morgan as a team-player, embraced by the Hollywood session world.
"It's all about blending. I did seven years of the Waltons, playing with probably the finest woodwind section in the world. Flute, oboe and clarinet all have different vibrato and I matched my sound to theirs. I took a lot of care over tuning. When you blow the harmonica hard it goes a little flat. I developed a very pure sound where I don't cut off too many vibrations [cycles per second] but I also beat the problem by carrying chromatics tuned to 441, 442, 443 and 444 kHz. My diatonics are blues and equal-tempered [one is better for chords, the other for individual melodies]."
In case this all sounds very cosy, it should be remembered that Morgan did not walk into a ready-made studio career. "When I started, the job didn't exist in Hollywood. George Fields had done some good things in the studios, but to be able to play full-time did not exist as a possibility. Then I did a session for Jerry Goldsmith. Goldsmith said, "You read pretty well. I'm going to write you like a third clarinet. Instead of having two harmonica solos, we'll have you come in and play nine cues." And when people found I could read pretty well, they started to use me. On one occasion, a composer asked Eddy Manson to play a melody up a third. It didn't work out, but I was there and because of my training I was able to do it. And after that one thing led to another."
Morgan sees preparation as a vital component in his success. "I played piano when I was young, plus some guitar. When I got out of the service I could see the nightclub and theatre industry was dying. My folks suggested I go back to school, so I did. I was studying for my masters degree in music, writing up my thesis, when I started getting called for sessions. And that's when I thought, "This is what I want to do. Recording." And I've used my experience as an orchestrator to interpret, or interpolate, a part. Interpolation is when I try to work out the effect a composer is trying to get, and then try to improve it. Sometimes I won't even tell him what I've done. As an example, if I got asked to play a trill from D# to E [difficult on chromatic], I'll do it on an E harmonica. Then the trill sounds much better….it kind of floats more. But I never tell anybody what I'm doing. Another player will work with the same composer and say it's impossible. Then the composer will say "Well, Morgan did it." I carry 45 pounds of harmonicas, all the chromatics and diatonics. So I can do stuff that nobody else can because nobody else has figured out how to do it." Morgan shrugs and smiles nonchalantly, seemingly at ease with divulging these tricks of the trade.
But working for John Barry didn't require a huge stack of harmonicas, just the ability to convert Barry's melodicism onto tape as purely as possible. Tommy is unstinting in his praise for Barry. "John can say more with a unison string line than most people can with a full orchestra. John has a melodic sense that is incredible and he writes great harmonica. Take "Dances With Wolves"…people say to me, I know your sound from "Dances". And do you know how many cues I played for "Dances"? One. It's so poignant, and so correctly used. I played a 2 minute 15 second cue and people remember my sound. Two takes. Twenty minutes. That was it. "That's gorgeous", said John. "You can go home.""
I ask about the tricky F to F octave leap from hole 2 (draw) to hole 6 (draw) on the "Dances" theme. Morgan explains the use of portamento, the classical violinist's technique of leaning up to an expressivo high note. "It's not quite a bend, you just lean up to and into the note," Tommy explains, singing the phrase by way of explanation. But he is quick to add that technique, while important, is just the means of achieving musical communication and not an end in itself. He says, "I get asked "Which way do you practise C major? Which holes do you play going up, and which coming down? And I reply that I practise it every way. I worked on several different slide/hole combinations for a passage in "Ritual Fire Dance" before deciding on the best one. Which was not the easiest one to play – but was the one which sounded best. And my answer to every technical question is "What does it sound like?"
I realise that Tommy has sung several musical examples during our conversation. I quiz him on this. "I've been a choir director for 25 years [amongst his other achievements – Morgan is also a qualified glider pilot, a black-belt Hapiko Karate expert and has an accountancy qualification]. I pattern my playing on vocals," he confides. "My vibrato is similar to a vocalist – I establish the sound and then add vibrato afterwards. If you can't sing what you're trying to do – and it doesn't matter how good or bad your voice is – then you can't play it. And whatever style of music you are playing, I would recommend you go to the source for your inspiration. If you want to play blues harp, don't just listen to the players – although there are some amazing ones, like Howard Levy and Jason Ricci. Listen to BB King. And I would suggest to a jazz clarinettist to listen to Toots. As a friend of mine once said, Toots would have been a giant on any instrument he chose to play. But while I have studied the way oboe, flute and clarinet players produce a sound, I pattern my own sound on the human voice."
Perhaps it is that very vocal quality of Tommy Morgan's sound which explains why it has communicated its message so unerringly to so many people for so many years.
I ask Morgan to help me summarise his contribution (and by extension the harmonica's) to the Hollywood industry in the 500-plus movies his playing has graced. "I was an extra dimension for composers," he explains. "Another colour in the sound palette. I lived at the right time and I had the opportunity. But I worked for it."
Morgan feels that his playing is best represented away from the commercial world, on his discs Classics Lite 1 and 2. "The weird thing is, you spend 20 minutes on something like the theme from "The Rockford Files" and you are judged on it for the rest of your life. But I think the Classics Lite albums represent the full range of my playing."
You can see and order Tommy's solo CDs here
There are more examples of Tommy Morgan's playing on my Tribute Page 
Here is Phil Hopkins home page