Whilst there is a lot of information on the use of the harmonica in Scottish and Irish Traditional music, little has been written about its use in England. This reflects the lower profile of traditional music in England and the relative isolation of most of the harmonica/mouth organ players. Musicians usually use tremolo or diatonic harmonicas. Here is a brief summary of what we could find. More details will follow about specific players from England. This is work in progress.
This review was written by Roger Trobridge with the help of Katie Howson. Thanks also to Jane Bird and others for their input.
Northumberland shares a border and many cultural links with Scotland, especially musical ones. It's mainly rural location in the North of England has helped it to retain its musical traditions when other regions have struggled to do so.
The Northumberland Moothie Tradition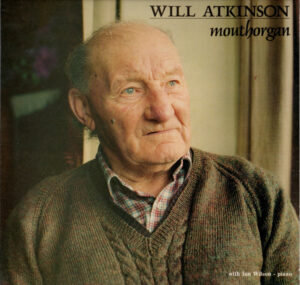 Will Atkinson (1908-2003) from Northumberland is the best known English traditional harmonica player. Will came from a musical family and was a shepherd for most of his life. He played mouthorgan and melodeon as a child before moving to the accordion and playing in a local group. Later in his life he returned to the tremolo harmonica. Will knew and played with many of the musicians like Jimmy Shand at musical festivals in the Scottish Borders. His repertoire included a very large number of local and Scottish tunes and he was renowned for precision of his playing. There are several CDs of him playing solo or with The Shepherds (Joe Hutton and Willie Taylor).
Ernie Gordon (The Geordie Jock) from Alnwick was a friend of Will's and spent a lot of time with him, learning many of Will's tunes. He is a fine musician who also plays the pipes and drums as well as music from countries like Greece where he lived for a few years. Ernie has been a big supporter of HarmonicaUK for 20 years which has help to raise the profile of the moothie. He has recorded one CD. You can see many videos of Ernie Gordon and Will Atkinson here.
Roy Hugman is another Geordie moothie player from Morpeth, who has promoted music from Northumberland and taught tremolo for HarmonicaUK is . He plays locally with his band and has an active YouTube and Facebook page.
Jimmy Little is a prominent moothie player from the Alnwick area who has released a couple of CDs.
Jimmy Hunter was recorded by collector Peter Kennedy in 1954 at his home at Haydon Bridge, Northumberland, England, when Kennedy was working for the BBC's Folk Music & Dialect Recording Scheme.
Other Geordie moothie players include Anita James and Rob Say.
Other Regional Traditional Players
Some other areas, particularly East Anglia and the West Country also held onto their traditional music, including harmonica players. Here are some who have been picked up by collectors and local clubs.
Jim Small (1913-n.d.) Learned to play from his father and played for folkdancing at school as a teenager, growing up near the Mendips in Somerset. He was involved in national radio broadcasts from 1938 to the mid 1950s, playing mostly folk dance music, and was then rediscovered by the revivalists of English traditional music in the 1970s. He was featured on a cassette / CD on Peter Kennedy's Folktrax label, which sadly, no longer exists.
Alfie Butler was a Gloucestershire gypsy who played harmonica as well as piano accordion.
Bill Elsom and Jasper Smith were Travellers recorded in southern England; the latter can be heard on the CD "My Father's the King of the Gypsies" on the Topic label.
Peter Roud, from Hampshire, was the subject of an article in EDS Spring 2011. He made a few recordings which are held by his family.
Sam Bond, again in Hampshire, played polkas, step dances, marches, singalong tunes etc, and recorded a cassette on the Forest Tracks label.
Stan Seaman was, a Hampshire melodeon player who also plays harmonica who made some recordings.
Dave Williams (1934-1997) was a harmonica, melodeon and banjo player in the New Forest area, who performed with Stan Seaman on many occasions, and was part of the Forest Tracks record label which recorded both Stan and Sam Bond.
Two more Hampshire players, Jimmy Dixon and Ron Whatmore can be heard on the Topic CD: "Rig-A-Jig-Jig – Dance Music of the South of England".
John Cole played chromatic with a few of the folk song and skiffle groups in the London area in the 1950s before moving to Spain.
Bill Train of Teignmouth recorded a selection of old song tunes, polkas hornpipes and a nice jig.
The musical and dance traditions from the Dartmoor area have been well documented through the twentieth century.
Jack Rice (1915-1994) and Les Rice (1912-1996), cousins from Chagford, played harmonica in the pubs, and for dancing. There is a CD of their playing available, called "Merrymaking":
Bill Murch played in the Dartmoor Pixie Band from 1973 to 1992 and can be heard on their CD "A Dartmoor Country Dance Party"
Mike Bond (1943-2014) was a real enthusiast and inspired everyone he met, and there's a nice interview with him here: https://www.flaxey-green.co.uk/Devon%20Folk/pdf/WA%20archive/WA87.pdf
The county of Suffolk has been well covered by folk music collectors throughout the course of the 20th century and just a cursory scan of the sources produces: Albert Smith, Tom Thurston, Harry Fleet, Charlie Philpots, Fred Pearce and George Ling in the coastal village: some of these can be read about on the "Sing Say and Play" pages on the Musical Traditions website – https://www.mustrad.org.uk/ssp . In Mid Suffolk there are even more names to be found including George Wade, Glyn Griffiths, Clemmie Pearson, Tom Williams, Lubbidy Rice, Jack Pearson, Bill Smith and Reg Pyett, who are all featured on the double CD "Many A Good Horseman" on the Veteran label. Others including fiddler Fred Whiting, melodeon players Walter Read and Fred List were known to play the harmonica as well. Most of these men played in the their local pubs on a Saturday night and for outings with darts and quoits teams, and their repertoire would include sing-a-long songs as well as hornpipes and polkas for stepdancing.
Harold Covill (1910-1993) from March in Cambridgeshire started by playing his father's mouthorgan and played all his life for local entertainments and dances. In later life he featured on Topic Records' 1974 LP "English Country Music from East Anglia". He also taught children through a local youth club.
Jack Hyde played for Abingdon Traditional Morris Dancers (now Oxfordshire, but then Berkshire). There are tracks of him on two CDs on the Topic label: "You Lazy Lot of Boneshakers" and "Rig-A-Jig-Jig – Dance Music of the South of England".
Players In English Ceilidh Bands etc.
Martin Brinsford (b. 1947) started playing drums in 1962 and then discovered traditional English dance and music and took up playing tremolo harmonica. He was a founder member of Old Swan Band, England's premier country dance band, and Brass Monkey with Martin Carthy and John Kirkpatrick. He has played in many other bands and recording sessions He plays a wide range of music drawn from around the world as well as England. currently plays vintage Québécois dance music with The Pigeon Swing. He has played at HarmonicaUK festivals. You can read more here.
Terry Potter (b. 1935) is another tremolo player who has been active since the 1960s with the modern tradition musicians like Ashley Hutchings ('The Compleat Dancing Master', 'Kicking Up The Sawdust') as well as playing with the Etchingham Steam Band, Potters Wheel and his family group, Cousins and Sons. You can read more here.
John Tams (b.1949) is a multi-instrumentalist, singer, songwriter, composer and actor. He is known locally in Derbyshire for his work with the Derbyshire Volunteers, but is known worldwide as the driving force behind such hugely influential groups such as Home Service and the Albion Band and also for his creative input into productions such as "War Horse" and "Lark Rise to Candleford" at the National Theatre, and for composing TV and film music including "Sharpe".
Katie Howson (b.1956) is known mainly for playing the English melodeon/ diatonic accordion but has in fact played tremolo harmonica for nearly as long. A member of several English ceilidh bands, including PolkaWorks, whose 2014 CD "Borrowed Shoes" features her harmonica playing.
Chris Taylor (b.1946) from Kent, played in the Oyster Ceilidh Band, Gas Mark V and Polkabilly. Gas Mark V released a number of recordings featuring his harmonica playing.
Simon Booth (b.1955) from Lancashire, plays tremolo harmonica and recorded with the Ran Tan Band.
Barry Parkes (b.1952) from Cheshire, plays tremolo harmonica and recorded with Dr Sunshine's Pavement Show, All Blacked Up and The Ironmasters.
Des Miller whilst living in Norfolk played and recorded with the Old Hat Concert Party and Rig-a-Jig, both bands specialising in localised repertoire.
Jaime Gill was featured in "Harmonica World" playing his large Hohner "683" double sider with the Clog Morris Band. He plays in "The Bicton Inn" in Exmouth.
Steve Harrison played mouth organ (and melodeon) in a couple of barn dance bands around Halifax (Yorkshire) and occasionally further afield. He was a member of HarmonicaUK and played tremolo and later, diatonic, until his death in 2018.
Eddie Upton took up harmonica more seriously in the 1970s. He played and recorded with The Pump and Pluck Band and toured Internationally. He set up Folk South West in 1992 and he appeared at a HarmonicaUK festival.
Ted Crum (1947-2020) from Coventry played blues style harp to accompany folk songs with Somerville Gentlemen's Band, and driving dance music with "rock ceilidh band" Peeping Tom and jazz-influenced Steamchicken.
Jon Fletcher plays diatonic, chromatic and tremolo harmonicas and is a guitarist and singer, performing both solo and with the band Magpie Lane.
Keith Holloway plays tremolo harmonica, although he better known as a melodeon and bass player in bands iincluding Random, The Old Chapel Band & Bosun Higgs.
The New Generation
Traditional music never stands still and young musicians will always find a way to keep it fresh and relevant for the new generation. Two in particular are very talented, original International performers who include traditional music in their compositions and performances, but in very different ways.
Will Pound comes from a folk music family and he has worked with other musicians like Dan Walsh (banjo) to develop his own style and repertoire. He has been nominated for the BBC Folk Awards 'Musician of the Year' and has released six varied CDs. You can find out more about him here and on his website.
Phillip Henry is one of the UK's top guitarists as well as a harmonica player who has developed his own style of beatboxing and diatonic harmonica playing. He has been nominated for Instrumentalist of the Year in the FATEA Awards and has released several CDs alone and with collaborators like Hannah Martin (Edgelarks). You can read more about Phillip here and on his website.
Sean Spicer and Simon Joy are two younger players who are continuing in the tradition. Sean played recently in the National Youth Folk Ensemble – probably the first harmonica player to do so – and Simon looks after traditional music within HarmonicaUK.
Jane Bird plays diatonic and tremolo harmonicas, mainly in sessions. She also plays anglo concertina and is probably more widely known as a dance caller and event organiser.
Scottish Traditional Harmonica Players
Nigel Gatherer has a list of Scottish traditional recordings and musicians including moothie players
George Current has more background on the Scottish moothie players.
Irish Traditional Harmonica Players
Don Meade has written a very detailed document about The Harmonica and Irish Traditional Music which includes an Irish/Scottish/Quebecois Harmonica Discography.
Geoff Wallis' The Irish Music Review has a slightly updated version of the list of players.
Dave Hynes has assembled a large gallery of images of Irish traditional harmonica players, as well as a list of the All Ireland Champions and BDs and DVDs of harmonica music.Additional Information
Additional Information
Will Atkinson – 3 CDs (2 were LPs) have been released – Mouth Organ (Solo), Harthorpe Burn (Joe Hutton, Willy Taylor and Will Atkinson), An Audience with the Shepherds (Joe Hutton, Willy Taylor and Will Atkinson). Will also plays on several CDs of Northumberland Traditional music. Here is a video from a concert at Morpeth Town Hall.
Martin Brinsford – He has recorded one CD under his own name, Next Slide Please (Keith Ryan with Gareth Kiddier) and he is present on several recordings with Brass Monkey. He has several videos on YouTube from the HarmonicaUK festivals.
Ernie Gordon – He has a privately recorded CD, The Geordie Jock and several YouTube videos including this Tribute to Will Atkinson from an HarmonicaUK concert in 2003. You can see many other videos of Ernie Gordon and Will on my Vimeo site.
Roy Hugman – Has several videos on Youtube including a moothie workshop for HarmonicaUK.